Today I will give you an overview of how to do awesome cross stitch motives. They perform great as a gift or as a piece of self-made art. And since many games evolved from a very pixelated style all these retro-classics are perfect to use as a pattern for cross stitching.
One of the first games I had contact to was Pokémon. For this tutorial I will show you how to do a classical red and white Poké Ball in some easy steps.
All you need at first is a pattern.

You will also need special cross stitch fabric, a scissor, a cross stitch needle and the colours you need for your motive.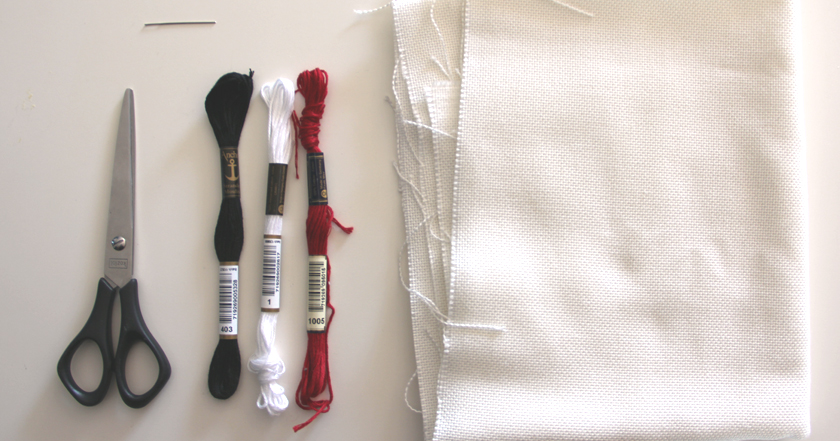 The fabric and the needle came in many various styles. I personally prefer an all-white Aida fabric with small blocks [the smaller the block the smaller the final art] in combination with a short and blunt needle. The colours I use are from Anchor ambroidery floss Mouliné. All the coulours I recommend are based on their colour spectrum. Of course you can use whatever cord company you want.
One string consits of 6 smaller ones, but you only need 1.

Take one string folded in the middle and pull it through the needle.

For the first stitch you need to fix the string. Simply pull the needle through your floss loop on the backside.

After starting with half the cross go back and complete the shape. To achieve a consistent look it is necessary that you always use the same direction for your cross stitches.

When you finished the string, you need to fix it on the backside of your fabric.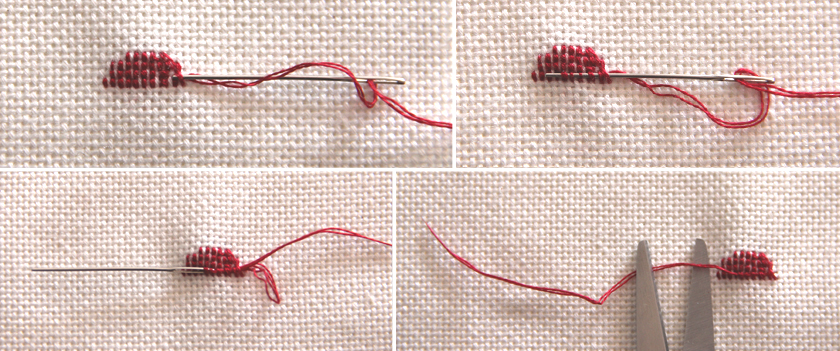 Continue with all the needed colors. Notice: It is irrelevant with which one you start.

Et voilá –  your first selfmade Poké Ball. You can see that the backside looks nearly the same as the front if you fix your strings properly. It's always a good idea to use more and shorter strings instead of less and longer ones.

Cross Stitch Gift Idea – Selfmade Pokémon Poké Ball Keychain
I cross stitched two Poké Balls, sewed them together and filled with cotton. It makes a great Keychain. And a perfect gift.